Hard water and desert heat are a challenge in many places. Palm Springs included. However, this problem is totally avoidable. A well-maintained pool will occasionally benefit from our affordable, professional and earth-friendly service. We'll keep your pool tile looking bright, beautiful and new.
Maybe there's no ocean in Palm Springs but you deserve a pool that brings more peace and balance to your life.
Pool Tile Cleaning 101
Living in the desert means heat and wind that leaves a calcium buildup on your tile. Small amounts of pool water evaporate, leaving behind a gray or white scum.
To remove all this and get your pool looking perfect again, we use a precision process. We avoid all scrubbing pads, abrasive cleaning stones, and chemicals – which are either ineffective, destructive or a concern to your health and the environment. With our method, you'll never have to worry about fading, damaging your tiles, or leaving behind any undesirable residue.
Is Our Method Safe?
Real pool experts consider our method (bead blasting) to be one of the safest and most effective. It doesn't change your water chemical balance either. Using recyclable glass means reducing the carbon footprint. And it's far safer for health than using either sand or silica. It's also a lot easier and quicker to clean up too.
We have the specialized equipment, training and experience to get rid of all the scale, corrosion, chemical contaminants and mineral build-up.
Periodically getting your tiles cleaned this way keeps your pool beautiful and actually helps it last longer.
Column 1

B Y





Richard did an excellent job cleaning the tile and acid washing my pool. The tile looks new again! He went out of his way address a leaky filter issue. He also performed a water level adjustment. This was second time Richard performed the tile cleaning and I will use his services again in the future.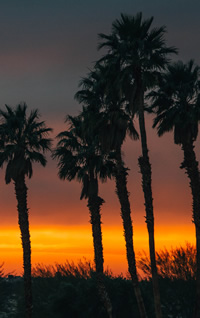 You'll find Best Pool Tile Cleaning working in many locations nearby.
If you live in or own a vacation home or rental in Palm Springs, CA and need professional, earth-friendly, pool tile cleaning… please contact us. We would be happy to keep your personal little backyard paradise in pristine shape!
Trendy Restaurants, Swimming Pools, Music Festivals, Art Houses and Movie Stars – Palm Springs, California has it all and then some! Make some memories by visiting this popular destination next time you're in Southern California.