Travelers looking to enjoy sunny southern California often head to one of the many popular beach cities. There they can cool off in the cool waves of the mighty Pacific Ocean.
However, more and more people head inland to the crown jewel of the California desert, Palm Springs. While this oasis is often associated with Hollywood elite, it's actually a popular tourist destination. Though no ocean is found here, thousands of extravagant swimming pools dot the landscape hidden away under clusters of lush palm trees and cozy cabanas.
Palm Springs enjoys warm weather nearly the entire year. So it's a real attraction for those avoiding the cold and snow in the mountains and high desert. When the weather is warm and sunny, the swimming pool is the place where people gather and enjoy their downtime.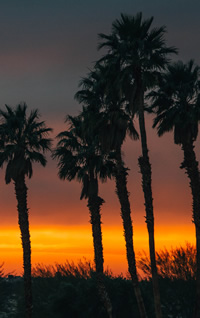 It's this beautiful country that Best Pool Tile Cleaning can often be found keeping swimming pools and pool tile in tip top shape. Best Pool Tile Cleaning is often serving multiple locations in this lush trendy getaway.
If you live in or own a vacation home or rental in Palm Springs, CA and need professional, earth friendly, pool tile cleaning… please contact us. We would be happy to keep your personal little backyard paradise in pristine shape!